The town of Carrick-on-Suir and its environs are buzzing today following Sam Bennett's victory in the race for the Tour de France green jersey, capped by yesterday's stunning stage victory on the Champs Elysée in Paris.
However, there won't be a homecoming for the bike star just yet – his immediate future will be determined by his team's schedule on the continent, with the coming weeks expected to be busy after this year's delays to the season; while the Covid-19 quarantine restrictions rule out any flying visit.
However, a warm welcome can be expected whenever he does get back to Tipperary, possibly later in the year.
Bunting, flags, photos and posters have decorated the town in recent weeks, all wishing their local hero well.
At his old primary school across the Tipperary-Waterford border, Crehana National School, pupils were proudly putting up flags and art today to mark Mr Bennett's achievement.
The school is located just a few hundred metres from the fabled Seskin Hill, where many Carrick cyclists – including Sam himself and also the great Seán Kelly who is another past pupil at Crehana – have trained over the years.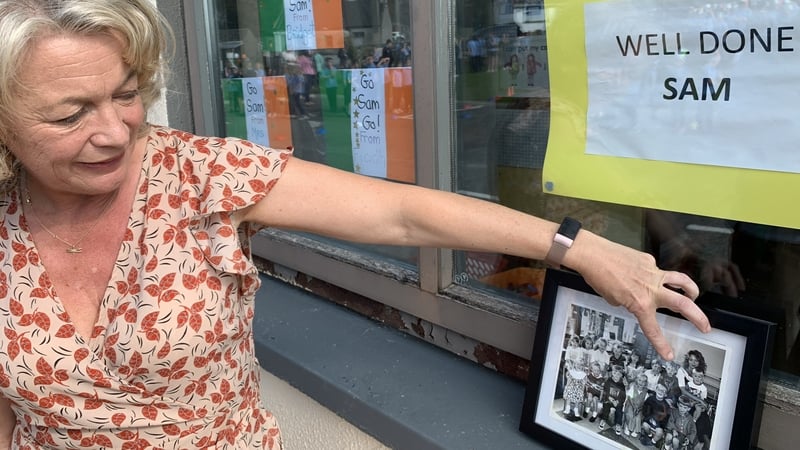 "We had great times here when Sam attended school," Crehana school principal Eithne Sheehan said today, while pointing out a photo of him in junior infants.
Mrs. Sheehan went on to say..
"It's fantastic. You'll always have a connection with a child who was in the school and that connection never goes away".
"I always think the children from Crehana are special, I'm like a mother, I think mine are the best chickens, and we're so proud of Sam and, of course, Lee Grace who was playing a European match during the week against AC Milan".
"Along the way we grow with Sam and we cheer him on and it's lovely living in the community where he grew up. I'd be friendly with his family, so he's one of ours and we're absolutely thrilled."
His achievement was "a great inspiration" for the children as well as providing "great excitement" for the day.
"By having role models like Sam it gives the children something to aim for and that they can see with hard work, dreams can come true, and when you have a concrete role model and somebody that they know from the community and  their family knows, it's wonderful for the children. We're extremely proud," added Mrs. Sheehan.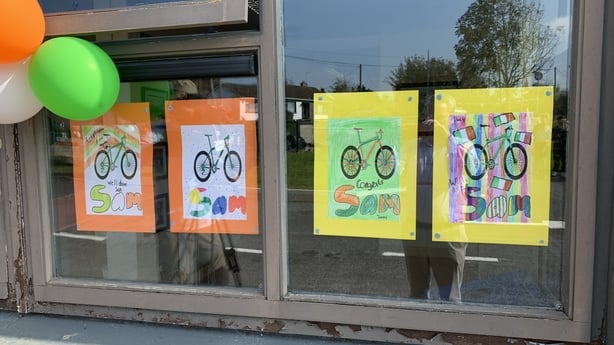 Crehana N.S. childrens art to celebrate Sam Bennetts win in the Tour De France
Pupils and teachers at Crehana NS outside Carrick-on-Suir congratulate past-pupil Sam Bennett on his Tour de France exploits. More on ⁦@rtenews⁩ Six-One later pic.twitter.com/YpYV0TIUZ1

— Conor Kane (@ConorKane0909) September 21, 2020
-Watch this video below recorded from RTE  9 o'clock news on 21st September in which Crehana N.S. features at 2:03 mins